Orange sticks are the typical summer dish, light and soft and the perfect companion to any salad. Would you like to learn how to prepare it?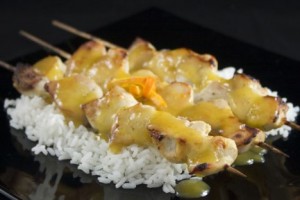 Orange sticks are an easy-to-prepare dish and it is more economical. It is also one of those dishes you want to eat in the days of intense heat, and that is light and appetizing. What's more, this dish has only 275 calories which makes it the ideal partner to keep weight under control and look sweet in the pool or beach.
Preparation time: 30 minutes
Cooking time: 25 minutes
Ingredients for 6 people:
For salad
• 2 tablespoons wine vinegar
• 1 teaspoon of honey
• 1 tablespoon sesame oil
• 200 grams of green beans cut into thick chunks
• 3 medium carrots peeled and grated.
For chicken
• 1 tablespoon sesame oil
• 2 cups of breadcrumbs
• 1/2 tablespoons grated orange rind
• A pinch of salt and ground black pepper
• 2 large eggs
• 1 tablespoon teriyaki sauce
• 300 grams of skinless chicken breast cut into strips.
For the sauce
• 1/2 cup orange marmalade, preferably low sugar
• 1 tablespoon teriyaki sauce
• 1 teaspoon ground ginger
• 1 tablespoon lemon juice.
Preparation:
In a deep bowl, add the vinegar, honey and sesame oil.
Add green beans and carrots and let sit for a few minutes for all the flavors to merge.
Pre-heat the oven to a temperature of 200 Celsius.
Fry the sesame seeds in a skillet with a little olive oil over medium heat and cook for about five minutes until golden and fragrant.
In a bowl mix sesame seeds, breadcrumbs and orange rind and season all with a little black pepper and salt.
In another bowl, beat the eggs and add a little teriyaki sauce.
Enter chicken strips in the first egg mixture and then the second mixing bowl with the sesame seeds and bread crumbs.
Place the strips on a tray in center of oven and bake until golden, brown and tender, about 18 to 20 minutes.
Meanwhile, in a small saucepan heat the marmalade, teriyaki sauce and ginger in medium-low heat until everything is well mixed. Away from the heat and add the lemon juice.
Serve the chicken strips with some sauce on top or aside in a small bowl. To obtain a dish of the most summer, served with a little light salad.