In just 15 minutes you can get some really chic and delicious recipe. A good resource for any finger food that you prepare at home. A tasty recipe and with all the properties of the vegetables.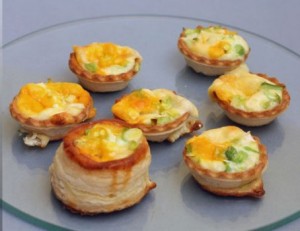 Ideal for snacks at a barbecue, party or even to take to the beach as light snacks, these tarts are also very nutritious, economical and easy to make, and that will be ready in just 15 minutes.
Preparation time: 15 minutes
Ingredients for 20 small tart:
• Olive oil
• 20 tarts
• 120 grams of cheese type goat cheese or semi hard and white
• 50 grams of chopped eggplant rather long
• 10 semi dried tomatoes, sliced
• 25 grams of red pepper, cut into thin strips
• 10 pitted black olives cut in half
• 20 small fresh basil leaves.
Preparation:
Pre-heat the oven to a temperature of 180 degrees Celsius and put some olive oil on a baking sheet to prevent sticking ingredients.
Arrange the eggplant and peppers on a grill or pan with a dash of olive oil until golden.
Divide the cheese into each of the tarts and placed over a slice of eggplant, a slice of tomato, a strip of pepper and half olive.
Place the tarts on baking sheet.
Set the pan in the oven for about five minutes.
To serve, add a sprig of fresh basil for decor and serves all the tarts at the same time making them the perfect finger food for any occasion.