Do you have a Halloween party and you refuse to take the typical sweet potatoes or panellets tray? Do you rely on a demanding audience that eschews the dishes a little different?? Do not hesitate, stake it safe and easy and try with our apple pie!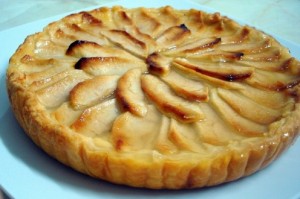 Utensils
Mixer
1 bowl
1 pie pan (preferably round)
Oven.
Ingredients
750 Grams of good apples for cooking (Golden type, for example)
1/2 lemon
2 eggs
100gm flour
1 packet of yeast (e.g. Royal)
150gm butter
100gm sugar.
Preparation:
Peeled apples into slices with crescent-shaped.
Squeeze half a lemon and pour the juice over the apples cut (look that we got the liquid remains among all, not to concentrate on the same sheets because it would become acidic).
Melt the butter (you can do this in the microwave) until soft, not liquid!
Take eggs and sort the yolks from the whites. Then, put the egg yolks in a bowl, in addition to sugar, flour, yeast and the melted butter (not liquid).
Citation until you obtain a homogeneous mass.
Mountain on the whites egg until stiff peaks form (with the blender is easier by hand can take more time) and add them to the mass. Mix everything very softly (without too much energy) until a spongy mass stays.
Gather the mold (suitable for the oven), butter it and later dust bread grated superficially. The reason? The bread will stick to the butter, creating a movie so the cake does not stick to the mold.
Pour batter into pan. Once done, add the apple slices over the dough. No need to be well placed, just to create a good layer. Now, when it is few apples stay, place them in the shape of spiral, as a snail that is turning up to the center.
Add small tears (bits) of butter superficially, as well as little sugar, so that the cake should be gilded.
Finally, introduce the dough in the oven (electric) at 160º for 50 minutes. You will know when be ready if you pierce it with a toothpick and it comes out clean, without anything attached.
For those who want a little more flavor, add figs or jam (raspberry or plum) above: not disappoint! As always … hope you will like it!