In recent years, new coffee chains have introduced a wide range of flavors in a dessert as traditional as cupcakes. Today, we teach you to prepare your own banana muffins.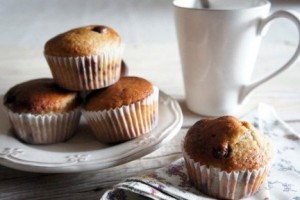 Banana Cupcakes have quickly become one of the favorite desserts among the young. If you are a lover of the muffins but it is hard to find exotic flavors such as bananas, not hesitate to try this simple recipe.
Ingredients for 10 muffins
1/2 cup flour (plus two teaspoons that will separate).
1 teaspoon baking soda for confectionery (optional and can be replaced with baking powder which already has some baking).
1 teaspoon of baking soda or baking powder.
1 pinch of salt.
1 egg.
3 bananas.
1/4 cup white sugar.
1/3 cup melted butter.
1/3 cup brown sugar for baking.
1 pinch of cinnamon.
1 teaspoon of butter.
cupcakes molds and muffins papers (optional).
Preparation of cupcakes
Preheat oven to 190-200 degrees Celsius.
Put a drop of butter in the molds for the ingredients (or paper for muffins) not be procured.
In a deep bowl, mix flour, baking powder, salt and baking soda.
Mash the bananas in another bowl. Then add the sugar, melted butter and the egg after beating slightly.
Once you've achieved a compact paste, pour the contents of the container in the first bowl with the flour, baking powder, baking soda and salt.
Mix the contents of the bowl and pour in the muffin molds.
In another small bowl, mix brown sugar, cinnamon, a teaspoon of butter and two tablespoons of flour and beat the mixture for a few minutes.
Pour into small bowl on the cupcakes and if you want just add a bit of dried fruit, sunflower seeds or chips of chocolate.
Bake for 18-20 minutes.
Good advice to ensure that the cupcake is cooked, insert a toothpick is fine. If the toothpick does not stain or does not get wet, the mixture will be sufficiently baked.
If you ever want to give a different touch to this recipe, just add three or four strawberries to mixture with bananas and get a really delicious result!