This dish is perfect for those summer days when we do not crave abundant and heavy meals.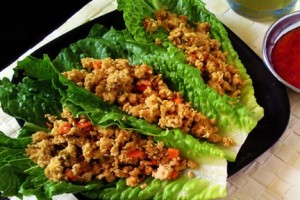 Stuffed lettuce rolls are a traditional dish in Chinese cuisine that can be perfectly used as lunch or dinner or as snacks. So you know, if you've been invited to a barbecue or party and you bring some snacks, stuffed lettuces of turkey will turn you into the queen of the party.
If you want a vegetarian version, you should simply replace Turkey for a little more than rice and vegetables. Light, nutritious, easy to prepare and low in calories (about 285). This recipe has it all.
Preparation time: 30 minutes
Ingredients for 4 people:
½ cup rice
½ cup water
250 grams of peeled of turkey breast
2 teaspoons sesame oil
1 teaspoon minced ginger
½ cup chicken broth
1 teaspoon of mixed spice
1 red pepper, cut into thin slices
2 small lettuce
½ cup chopped fresh herbs (cilantro, basil, mint and/or parsley)
1 grated carrot
Pinch of salt
2 teaspoons soy sauce or Chinese hoisin sauce
Preparation:
Prepare rice, boiling water and add the rice until it is ready.
In another saucepan, heat the olive oil over medium heat.
Add turkey breast and ginger and cook meat until brown, about 6-7 minutes.
Add remaining ingredients except fresh herbs, including rice and let it cook all for one or two minutes.
Put a little filling into each lettuce leaf.
Add some grated carrot and fresh spices and roll well.
Serve this recipe for snacks or accompanied by a piece of fruit. Thoroughly combine strawberries, mango and peach. This way you will turn it into a very light dish.