A gourmet place, a HQ, a chic brasserie with French accents, other British, servers accomplices, enthusiastic young waiter, a bright and soft, clear and friendly frame, an eclectic menu where you can order the simple things, good, tasty: here is what Helen Darroze made of ancient conservatory of Connaught, with her bow windows on Mount Street and Carlos Place.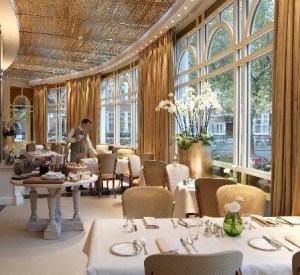 Might be just a club sandwich, croque-monsieur, choose the moment of "high tea", the exquisite finger sandwiches (salmon and wasabi with mayonnaise and watercress), the delicate pastries (lemon cheesecake, cabbage in the Tonka bean and vanilla cream), choose between twelve teas here and elsewhere or scrape over the menue's the ideas of the time.
For a farewell to London after a long weekend, a truce in the shopping off New Bond Street, a wink before catching the Eurostar at St Pancras, and a nice fresh beets salad with burrata and old balsamic vinegar or even pretty "Devonshire crab cake" with its sweet mustard sauce mayonnaise soft font of nice entries in the field.
After that? The "cottage pie" of braised beef cheeks with Aberdeen Angus in the air (delicate) shepherds pie as grouse outbreak (served blue) with bacon and roasted polenta, plus Paris mushrooms, grilled bacon and juice in salmis make very pretty things.
It adds nice distinct vinous touch reminiscent discoveries, fruity raspberry. More fun desserts, like chocolate fondant sparkling "sit" on a vanilla iced or composition on the theme of fruit and raspberries between ices.
Address:
The Connaught, Carlos Place
W1K 2AL London
UK
Tel. +44 (0) 20 7499 7070