The sangria recipe is not universal. Everyone has their own way of doing it, with its tricks and its star ingredient. Here we provide you the secret of sangria recipe: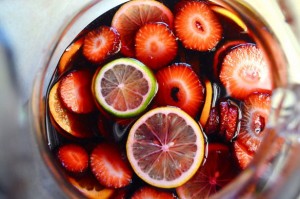 Ingredients:
3 peaches
2 oranges
1/2 lemon
50 grams sugar
5 cl of brandy
1 and 1/2 liter of wine red
1 cinnamon stick
1 glass of orange juice
1/2 cup of lemon juice
1 lemon rind spiral cut
Preparation:
Peel the peaches, cut them in half by removing the bone and cut into very thin slices. After the orange peel and cut into small pieces also as lemon.
Put all the fruit in a bowl with sugar and brandy and let soak about 12 minutes. Then add the red wine, a glass of orange and lemon juice.
Later, add the cinnamon and the spiral of lemon peel and leave to cool in the fridge. This drink is necessary to serve it very cold.
The secret to success…
Before consuming the indentation and at the last moment add ice without abusing so it is very cold.
You can also add a small bottle of fanta of lemon or very cold orange so it does not water down the drain while the graduation of the alcohol.
There, ready to take. Savor the summer with the summer drink par excellence.