In recent years, new coffee chains have introduced a wide range of flavors in a dessert as traditional as cupcakes. Today, we teach you to prepare your own banana muffins.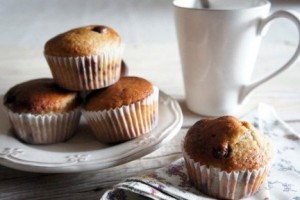 Banana Cupcakes have quickly become one of the favorite desserts among the young. If you are a lover of the muffins but it is hard to find exotic flavors such as bananas, not hesitate to try this simple recipe.
Ingredients for 10 muffins
1/2 cup flour (plus two teaspoons that will separate).
1 teaspoon baking soda for confectionery (optional and can be replaced with baking powder which already has some baking).
1 teaspoon of baking soda or baking powder.
1 pinch of salt.
1 egg.
3 bananas.
1/4 cup white sugar.
1/3 cup melted butter.
1/3 cup brown sugar for baking.
1 pinch of cinnamon.
1 teaspoon of butter.
cupcakes molds and muffins papers (optional).