The pumpkin helps to remove fats in the body, prevents constipation, combats the headaches and rheumatism, and also reduces inflammation. As if that were not enough, it is also a great ally of diabetics, because it helps regulate blood glucose levels.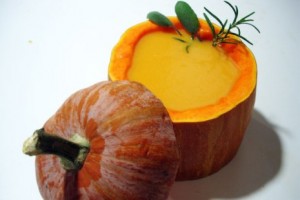 It is also perfect for this time, as it collaborates with the removal of mucous from the lungs and throat. So for those days you do not have much time to cook and want something different, then we let one easy recipe, healthy and easy (and most importantly, light) to take full advantage of this terrific vegetable.
Ingredients
400 gm Pumpkin
3 carrots
1 leek (white part)
1 potato (200 or 300 gm)
100 ml Nata
Olive oil
Salt.
Preparation
Throw all vegetables in a pressure cooker (clean and cut into chunks) and then cover it all with water. Do not forget to add a little olive oil and seasoning.
Cover the pan and let it cook for 20 minutes over medium-low heat. Alert! The time will depend on as your pressure cooker.
Uncover the pan and if you observe that water still stays and we can leave something liquid cream, remove a little and already set aside it in case it is needed later.
The rest, grind it in the blender with the nata of a little olive oil.
Try the salt and, above all! Serve the Pumpkin cream very hot.
Also Read:
Visit acourseinmiraclesnow.com to find out more regarding free…