Update your autumn meals with a very healthy proposal for fish lovers. If you are the always runs away, of which you may forget things unless you have a reminder and to the that you grab the bull when to be the hostess this is¡ quiet! We have the solution.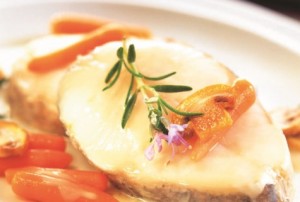 We propose a simple recipe, designed for 4 people, very easy to prepare that will be ready in just 25 minutes. It also has a caloric value of 350 kcal per person.
Do You Want to know how to prepare a hake with mushroom sauce? Attentive to the following recipe:
Ingredients:
8 slices of hake
300 gm of mushrooms
200 gm baby carrots
400 ml of milk
15 gm of flour (a tablespoon)
1 glass of sherry
White pepper
Olive oil
Iodized salt.
Preparation:
Start by thawing the slices of hake in the fridge. Better that you do it on a receptacle with grill so that the juices of the defrosting remain separate.
Then, heat a little olive oil in a skillet and, when hot, add the carrots, frozen directly. Let cook over high heat until it is thawed and set aside.
Use the same oil to saute the mushrooms directly frozen. Once added sauteed carrots over high heat and sherry, and let it reduce. Incorporates the flour, stir to distribute it throughout the pan and slowly add the hot milk, stirring constantly. Mix salt and pepper.
Hake mixture of salt and pepper, put it in a pan suitable for the oven, cover with the sauce and cook for 10 minutes in the preheated oven at 180º C.