One of the most popular dishes and internationally known from traditional German cuisine is, without a doubt, the German salad.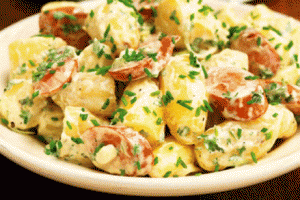 This salad is characterized by its star ingredient is potato and is the perfect accompaniment to any dish and is most refreshing during hot summer days.
Preparation time: 30 minutes
Cooking time: 20 minutes
Ingredients for 4 people:
• 3 cups peeled and diced potatoes
• 4 slices of bacon
• 1 small diced onion
• 1/4 cup white vinegar
• 2 teaspoons of water
• 3 teaspoons of white sugar
• 1 teaspoon of salt
• 1/8 teaspoon ground black pepper
• 1 teaspoon fresh parsley.
Preparation:
Arrange the potatoes in a saucepan with enough water to cover. Add a little salt and bring to a boil until potatoes are done.
Place the pieces of bacon in a skillet with a little olive oil and cook over medium-high heat until golden and crisp.
Remove the bacon and add the onion to the same oil and grease from the bacon, leaving fry over medium heat until golden.
Add the vinegar, water and sugar.
Leave to boil everything and then add the potatoes, parsley and half of the bacon. Heat everything and then transfer it to a source to serve it, adding the rest of the bacon.
This is a dish that can be served warm or cold and can be combined with meat, vegetables and fish or eat alone for lunch or light dinner.