Discover the increasingly broad, varied and inexpensive cuisine of the British capital. Forget the cliches and eat healthy and well in the best low cost restaurants in London. So save for your shopping!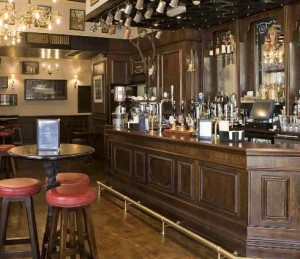 Restaurants with delight and economic in London? Yeah, right there. Forget the stereotypes that say that in Britain eats bad and expensive. Apart from the four restaurants that already have the list of the world's best, do not stop the inaugurations of good restaurants, nice and cheap. Low cost restaurants in the heart of London so that you do not have to eat up again a sandwich of supermarket or the most expensive pizza in a place crammed with tourists. One more reason to escape a few days to the City, go shopping and eat well and at a good price!
Gastro Pubs
Very close to the major London theaters is Angel and Crown, in Covent Garden. It is the last 'Gastro Pubs' that has opened in London, real pub but with diverse restaurants with local produce, organic and seasonal. In Camden, have to come to Gordon's, an institution in London. Good wine and good British cheese in a very relaxed: it is full of candles. In Square Pie, you can try handmade pies and square!, Served with mashed potatoes and gravy.
In Soho
In one of the most famous London restaurants crowded with cuisines from around the world, you can find affordable options, stylish and without reservation. You can try Yalla Yalla, which transports you to an authentic coffee of Beirut or taste thai food on the truth in Rosa's. If you prefer Vietnamese soups and salads, come to Pho or if you're into Indians rolls go to Mooli's. Furthermore, you can not miss the opportunity to see the trio of restaurants under the same ownership consist Spuntino, Polpo and Polpetto. A good place to start the evening surrounded by interesting people. If you like live music over dinner or eat, points in the book: Brixton, a real mecca for gourmets, with over 20 restaurants with incredible prices.
Stylish Chains
Go to a chain of restaurants doesn't have to mean bad food and dreary decor. Just take a look at the proposals of Wagamama, a classic in the oriental food London; Ping Gong, with its exotic cocktails and tasty dim sum or Leon: fast, cheap and healthy at the same place.