MasQMenos, a restaurant-cafeteria belonging to Cacheiro Restaurants. Cozy, with a lovely decoration but especially with irresistible dishes.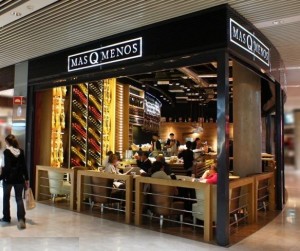 A place both for breakfast and snack; the appetizer; or for lunch or dinner. That just want a quick snack, you can do it in the same bar. If you fancy having a good time with friends or with your family, relax in one of the tables sitting in comfortable chairs and prepare your palate for a variety of flavors.
MasQMenos hosts high-quality products and very varied, with rations of cold cuts, cheeses, wines, preserves, attractive salads and sandwiches based artisan breads with Iberian ham of great flavor from Salamanca.
The best news of all? If there is something that you have delighted you can buy it in their store space. Since parts of the best meats and cheeses, cold meat and vacuum packaging, bottles of wine and champagne, tasty preserves, etc.. In fact, the decor of the room, reminiscent of a deli, their products are displayed in the windows, hanging hams and wine bottles lying on shelves.
In addition, don't forget to save your appetite for their desserts portion. Starting with the classic chocolate coulant to a lemon meringue pie or cheesecake with raisins. Finger licking!
It is stayed at the MasQMenos of the shopping center of Las Arenas Barcelona, although you can find it in Rambla Catalunya, 46 or Avenida Diagonal, 545.