If you fancy something sweet and do not want to spoil the efforts you have put in your diet, you just have to change some ingredients and you can enjoy a tasty dessert without feeling guilty.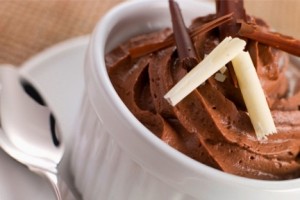 Such is the case of banana and chocolate mousse, made with unsweetened cocoa, cornstarch and skim milk.
Ingredients:
Half banana
1 cup skim milk
1 tablespoon cornstarch
1 tablespoon unsweetened cocoa
A few drops of vanilla essence
Strawberries (for garnish)
Sweetener (to taste).
How to prepare:
Put one cup milk in a saucepan and bring to a boil.
Add cornstarch.
Stir well until it thickens and becomes the mousse.
Mash the banana and add it to the milk.
Remove and also add cocoa, sweetener and vanilla essence.
Mix well until blended.
Presentation Tips:
This mousse is best taken cold, so it is advisable leave a few hours in the refrigerator. To surprise your guests can serve in the cup of cocktail and decorate with some sliced strawberries, a banana or kiwi.
You'll get a dessert rich in vitamins and not leave aside diet so difficult to take. Surprise your guests and friends with this simple recipe and can give you a sweet treat.