There are many varieties of bread but perhaps one of the most curious and sweet is the Banana Bread; Do you want to learn how to prepare it?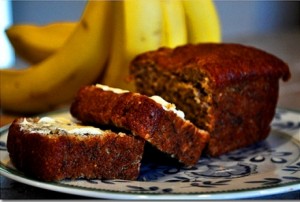 If you are a lover of the homemade bread and you want to try out a new version, or simply don't know what to do with those ripe bananas that you have left over, maybe you should try this original banana bread recipe that will delight the little ones in the house.
Ingredients:
• 285 gram Flour
• 1 teaspoon yeast or royal
• ½ teaspoon salt
• 110 grams butter
• 225 grams icing sugar
• 2 eggs
• 4 crushed bananas
• 85 milliliters of milk mixed with 1 and ½ teaspoons of lemon juice or vinegar
• 1 teaspoon vanilla extract.
Preparation
Pre-heat the oven to a temperature of 180 degrees Celsius.
Mix the flour, yeast and salt in a deep bowl.
In another bowl, mix the butter and icing sugar until you get a thick paste.
Add eggs, mashed bananas, vanilla extract and milk in the bowl where the butter and icing sugar and mix well until a smooth paste.
Then add the mixture to the bowl where the flour, baking powder and salt and mix well.
Put some butter in the pan that you will use for the bread and then add the mixture.
Place the pan in the oven and let the bread cook for about an hour or until it has risen and present a golden appearance.
Finally, remove the pan from the oven and allow to cool before serving.