Are you having little time to prepare dish? This dish is perfect for you with a succulent combination of nutrients in one dish.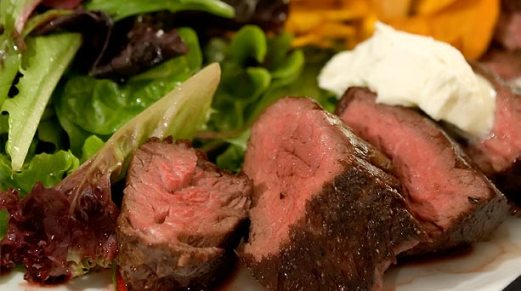 Ingredients (2-4 servings)
250 grams flank steak
Salt and pepper
½ teaspoon cayenne pepper
½ tablespoon olive oil
2 tablespoons red wine vinegar
½ tablespoon parsley, chopped
1 head of Bostonian lettuce
1 medium cucumber, chopped
2-3 radishes, sliced.
Related: What cooking methods you can you use when making sirloin and flank steak?
Preparation
Season each side of the flank steak with cayenne pepper, salt and pepper. Heat oil in a medium skillet over medium-high temperature. Arrange the steak on the pan and seal each side (3-4 minutes per side).
Remove from heat and let it sit for 8-10 minutes.
Breaks down the pan with red wine vinegar. Turn off the heat; add the parsley and a pinch of lemon zest. Separate.
Slice lettuce and arrange it in a salad bowl. Add radishes and cucumbers and stir. Add the meat and seasoning and stir again.
Serve immediately.