The people of New York love to eat well, and certainly lacks the alternatives, given that there are approximately 4,000 restaurants across the city. If these are looking for something very good, at least according to international criticism, here are two good choices.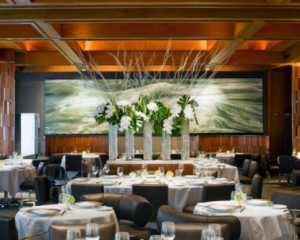 Le Bernardin, 155 W. 51st Street: four stars (the maximum) recognized by the New York Times and three stars by Michelin Guide. With this curriculum appears the Le Bernardin, historic restaurant near Times Square for 20 years that offers French cuisine and seafood specialties.
The prices, given the reputation, are not exorbitant: for those who chose the three course menu, start from $66 each. But be careful fashion items for men's jacket is a must. On the site of the restaurant, you can admire a beautiful gallery, menus, and … book a table!
If you prefer sushi and Japanese cuisine you can not miss the Masa, in the 'Upper West Side, more precisely within the Time Warner Center, just steps from Central Park. Even here there are three stars by Michelin Guide, will tell you right now, though, that this time the prices are very high: for the fixed price menu, well $400 is required, excluding drinks, of course.
If the cost does not scare you, come and enjoy the food preparation, perhaps by the chef – owner of the restaurant, Masa Takayama, preparation, they said, alone worth the price paid. And remember to book at least a month before, otherwise you will not find the place.
If you experience seems prohibitive, you can always try something at "Bar Masa", adjacent to the restaurant and cheaper, with prices starting at $20 per dish.