Exquisite way of delighting your guests with a simple and very gourmet crab cakes. They'll love!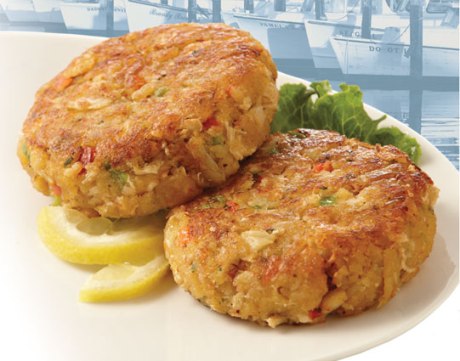 Ingredients (24 servings)
4 tablespoons butter
¼ cup minced shallots
¼ cup + 2 tablespoons flour
1½ cups whole milk
113 grams crab meat
1/3 cup parmesan cheese, grated
1 tablespoon minced parsley
½ teaspoon lemon zest
Cayenne pepper
Salt and pepper, to taste
3 large eggs
1½ cups bread crumbs
Vegetable oil, for frying.
Preparation
Melt the butter in a medium saucepan over medium heat. Add the shallots and heat until softened, 3 to 4 minutes. Add flour and heat, stirring constantly, for 1 minute. Add milk slowly and steadily, stirring until the mixture boils. Lower the temperature and heat, stirring constantly, until the mixture has thickened, about 3 minutes.
Add crabmeat, Parmesan cheese, minced parsley, lemon zest and a pinch of cayenne pepper. Remove from heat and stir until everything is combined. Season with salt and pepper, to taste. Spread the mixture onto a ribbed tray and allow to cool completely.
It accommodates a grid of metal over ribbed tray. Stir the eggs in a shallow bowl and add the bread crumbs in another shallow bowl. Make balls of crab meat with the mixture, cover each with egg and then bread crumbs. As the go covering, arrange them on the metal grill. Let them rest, uncovered, for 30 minutes.
Heat a little oil in a large frying pan. Fry the crab cakes, turning once, until golden brown, 1.5 to 2 minutes. Takes the cakes and arrange them on a plate covered with paper towels to drain. Season immediately with salt.
Serve hot cakes.