Exquisite option full of interesting flavors to a meeting with friends or for a delicious family dinner.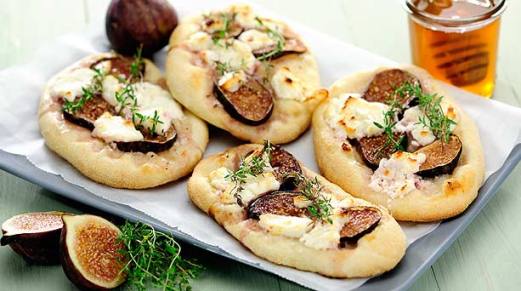 Ingredients
(1 large pizza)
For the dough
1 1/8 cups hot water
3 teaspoons active dry yeast
1 teaspoon honey
1 tablespoon olive oil
3 cups flour
1 teaspoon salt.
For toppings
2 garlic cloves, minced
8 fresh figs, sliced
4 slices bacon, slightly crunchy
226 grams grated Fontina cheese
113 grams of crumbled gorgonzola cheese
2 cups fresh arugula
1 tablespoon olive oil
Pinch salt and pepper.
Preparation
For the dough
In a large bowl combine the water, yeast, honey and olive oil. Mix with a spoon and let it sit until it becomes frothy, about 10 minutes. Add 2½ cups flour and salt, stirring with a spoon until the dough is unified but still smearing.
Using your hands form a ball with the dough and incorporate the remaining flour, knead on a floured surface for a few minutes. Spraying the same bowl with olive oil and accommodates the mass inside, turning to cover. Cover with a towel and settles into a warm place to increase its size for about 1½ hours.
Once the dough has increased its size punch and fit it on the floured surface. Shape the dough in the shape you prefer and accommodates the dough on a baking sheet. Again use the towel to cover the dough and let sit in a warm place for 10 minutes.
Preheat oven to 190° C.
Arrange the dough on a baking sheet. Top with a little olive oil and garlic, spread half the Fontina cheese. Add the figs and bacon on the pizza, cover with remaining Fontina cheese and Gorgonzola cheese.
Bake 25 to 30 minutes, until the cheese and dough are golden brown and bubbly. Remove from oven and cool for 5 to 10 minutes.
Toss arugula with a little olive oil, salt and pepper and add it to the pizza.
Serves.