If you are planning a romantic this is your best choice! Delicious beef tenderloin with a creamy and delicious sauce.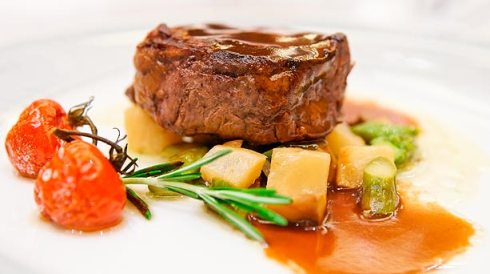 Ingredients (2 servings)
500 grams beef tenderloin
Rock salt
Ground black pepper
Garlic granules (optional)
1 tablespoon olive oil.
Cognac cream and Dijon sauce
1/3 cup cognac or brandy
½ cup whipping cream
2-3 teaspoons Dijon mustard, soft
2 teaspoons fresh tarragon, chopped.
Preparation
Tie the tenderloin with kitchen string at intervals of 2.5 cm. to maintain the shape and roast uniformly. Sprinkle all sides with salt, pepper and granulated garlic. Rub with olive oil.
Preheat oven to 204º C. Cover a baking sheet with foil, arrange a rack on the tray and separates.
Heat a skillet over medium-high heat. When hot accommodates the back and seal all sides, turning when golden crust forms.
When all sides are sealed accommodates the back on the grid and separates the pan (do not wash).
Roasts tenderloin in the oven for about 18 minutes or until you reach the end you want.
Remove the back of the oven and let stand in a warm place for 15 to 20 minutes.
For the sauce
Use tenderloin in the pan and heat to medium temperature. Carefully add the cognac and mix, scraping small pieces of meat that have remained stuck in the bottom of the pan.
Leave the cognac warm up for 1 to 2 minutes and incorporates the whipping cream. When smooth add the mustard and tarragon.
Test and adjust with salt and pepper flavor as needed.
Slice the tenderloin and serve with the sauce.