A traditional Italian dish that comes to your table that give exquisite taste to dinner with your partner, your friends or yourself.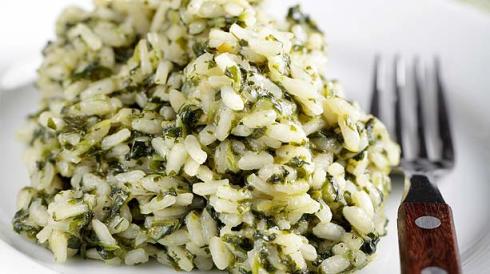 Ingredients (2 servings)
2½ cups chicken broth
1 tablespoon butter
1 shallot, chopped
1 garlic clove, minced
Salt and pepper, to taste
¾ cup arborio rice
2 large tomatoes, chopped
2 cups spinach
1 handful basil
¼ cup Parmesan cheese, grated.
Preparation
Boil chicken broth in a small saucepan. Low temperature and keep warm.
In a large skillet melt the butter over medium heat, then add the shallot, season with salt and pepper and saute until the shallot remain translucent (3 minutes approximately). Add garlic and saute for another 30 seconds.
Add rice and stir to cover with butter.
Incorporates ½ cup chicken broth and stir constantly until it is absorbed. Repeat with the rest of the broth, ¼ cup separating.
Add tomatoes and continue stirring. Add spinach and basil with the rest of the broth and continue stirring. Add the Parmesan cheese and salt and pepper to taste.
Serve hot.