The stir fry is one of the cooking techniques used in the increasingly trendy Asian cuisine. With this technique you can mix different vegetables and meats getting infinity of new and wonderful flavors that will cause an explosion of textures on your palate.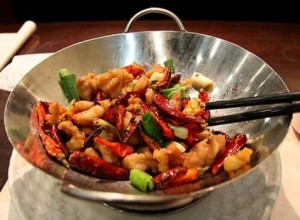 By following a few simple tips to get similar dishes such as admired oriental food restaurants where mastery of this ancient technique of cooking, call sauteed, becomes an art.
The sauteed involves in frying with little oil (preferably sunflower or vegetable) and already elevated temperature, stirring the ingredients constantly. The flagship tool in any self-respecting sauteed is known as traditional Asian wok pan. Using a good wok is one of the key to get a taste similar to an Asian restaurant.
To be much deeper than that of the conventional frying pan, wok allows the ingredients to remove these pass from the deepest part and hot to the sides that are a little colder and this is achieved with the food or burn or swallow. In addition, the wok fried more quickly than a deep frying pan with which the ingredients get a more crunchy finish.
Equally important to achieve true technical information, ingredients are constantly moving in order to preserve the flavor, texture and color of it.
When you skip, is taken into account that the ingredients in advance, must be prepared by washing, cutting it and separating it into different bowls or dishes depending on the cooking time required for each one of it. So, vegetables like green beans or carrot needs more cooking time will be added before those that need less cooking as tomatoes or peas.
Pork, beef or chicken be cut into small, thin pieces that require little cooking time. In order that the meat does not burn or overcook, you must bathe it in chicken broth or beef broth, soy sauce, chili sauce, cornmeal, brown sugar, red or white wine or dry sherry. The ingredient or ingredients in which the meat will be dressed, depends on the personal taste of the cook and the final flavor that it is desirable to obtain. For more flavor, you should leave the meat in the broth or sauce for about an hour.
Finally, to give you the ultimate oriental touch not forget to add a little soy sauce or chili, so typical of Asian cuisine. Although a priori this technique may sound difficult, nothing further from reality. Try and check!