Here are five "special" restaurants; Join the most fashionable eating different!
The Car: Eating within a beetle is possible (the car, not the bug).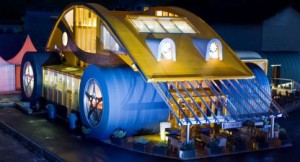 It is located in Salzburg, it has the shape of a Volkswagen beetle and capacity for 100 people. This restaurant serves typical Italian food served in the front wheel, the engine or in any of its terraces area.
Ithaa: This restaurant is located in the Maldives and is the first underwater restaurant with a full glass dome. It is built in a coral reef over 4 meters deep under the Indian Ocean. It has a view of 270ª and can only accommodate 14 clients at the same time. It belongs to the Hilton chain and is located in a resort with spa and other activities in the area.
Subculture dining: Located in a local underground of San Francisco, which access is permitted only for members and whose cook is completely unknown. In addition to this secret hide some more that you can discover if you do not join the club.
The clinic: Eat sitting on a wheelchair around a table in the operating theater, the armchairs are in the form of pills and the waiters dress of doctors.
This Singapore restaurant recreates the styling and decoration of a hospital. When you arrive, you will have to go to the "emergency reception" and a "doctor" will guide you to the room "anthrax" or "morphine" and shall take you note to eat. For dessert "of the House" have a cocktail that is served in a serum bag.
Dans le Noir: London, New York and Paris are three of the cities that already have this "dark" restaurant, as the only where there is light at the bar. There you should always read the menu and choose which you want to eat. You'll have to decide between white (surprise dish), blue (ocean dish), green (Vegetarian dish) and red (meat dish). When this is done, a waiter blind guides you to your table and will tell you with whom you are sitting. You will fully the dark so you will not know exactly what you're eating.