Here are five "special" restaurants; Join the most fashionable eating different!
The Car: Eating within a beetle is possible (the car, not the bug).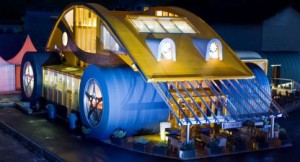 It is located in Salzburg, it has the shape of a Volkswagen beetle and capacity for 100 people. This restaurant serves typical Italian food served in the front wheel, the engine or in any of its terraces area.
Ithaa: This restaurant is located in the Maldives and is the first underwater restaurant with a full glass dome. It is built in a coral reef over 4 meters deep under the Indian Ocean. It has a view of 270ª and can only accommodate 14 clients at the same time. It belongs to the Hilton chain and is located in a resort with spa and other activities in the area. Continue reading "Special restaurants for unique experiences"