The sign will not be misled: the restaurant's name does not refer to the South American country, but the nickname of one of the leaders of the bistro, you will encounter begins at the threshold of Chile's Bistrot in Fano.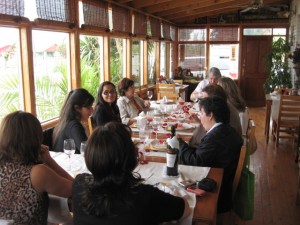 So no Chilean cuisine, but good fish cooked really well. The restaurant will impress you from the outside: from the large windows you will see equipment prepared and pastel colors, lots of little details almost in Provencal style, gadgets and seafood plants, candles and lamps spread out on tables and windowsills.
But it is not mirrors to distract the unwary customer by what arrives on your plate. Opening the menu you will find many interesting dishes to accompany bianchello at house and without the bill makes it indigestible lunch.
Having to sacrifice for the collective good, we sampled the carpaccio of swordfish and tuna, seafood salad, marinated anchovies, shrimp and flan of ricotta, parmigiana tuna, stuffed squid and red mullet baked with cream fennel. Among the earliest instead definitely deserve your attention the paccheri scampi and eggplant and spaghetti with seafood and Buffalo cream.
Properly stuffed from the appetizers and pastas we have not challenged the latter, wisely entrusting the pine nuts and honey semifreddo and tiramisu with strawberries, served in a glass jar. A nice walk on the nearby waterfront and a breath of sea air are the perfect conclusion to a satisfying meal served by caterers capable and courteous.