In Rio, where every week there are opportunities to dance or listen to music, or simply usher in the evening for dinner, just to have a chat with friends. Here's what we recommend in Rio de Janeiro, if we are looking for a bar.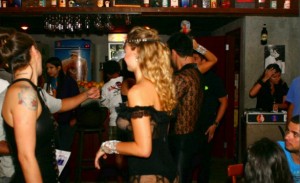 Bar Urca: Rua Candido Gaffree, 205, Urca, since 1939 the best Salgados, perhaps accompanied by a cold beer to enjoy a beautiful sunset, Rio-style.
Caroline Cafe: Rua JJ Seabra 10, Jardim Botanico, perhaps the best known bars in the area, a sort of casual chic bars, where the modern blends street art to the neighborhood.
Live Music @ Balcony: Avenida Atlantica 1424, Copacabana, with live music from 5 and half of the afternoon, special drinks, nightlife, and a wide choice for a dinner with friends.
Cafe del mar: Av Atlantica 1910 – Copacabana , this bar-lounge overlooking the beach, serves wonderful tapas, great for relaxing with his gaze lost in the ocean. Famous Copacabana to keep alive, even on Sundays.