The salad whose main ingredient is some fruit are undoubtedly the lightest and appetizing of any summer menu that boasts.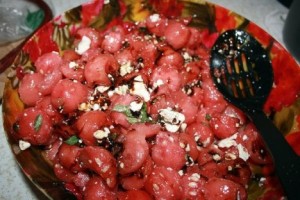 Today we present a very fresh and light watermelon salad, low in calories, and easy to prepare that is sure to bring a touch of "chich" to any menu. Ideal on warm summer nights, this salad will add nutrients while leaving a delicate bittersweet taste on the palate. Even better, have an exotic salad in less than the blink of an eye.
Preparation time: 20 minutes
Ingredients for 6 people:
• 1 watermelon
• 1 sweet onion
• 1/4 cup wine vinegar
• 1/2 cup olive oil, preferably extra-virgin
• 2 teaspoons of finely sliced fresh mint
• 100 grams of feta cheese, in strips or cubes
• A pinch of salt and ground black pepper
Method of preparation:
Cut the watermelon into two halves, and empty it by cutting the inside in cubes after removing the seeds.
Peel the onion and cut into very thin slices.
Mix the wine vinegar, salt, pepper and a pinch of salt in a small bowl until the salt has dissolved.
Go pouring a bit of olive oil little by little while stirring.
Add diced mint.
Adds large watermelon, onion and cheese.
Pour the mixture of vinegar, oil, salt and pepper in small bowl over salad and combine it all.
Add a little mint if desired.
For a more exotic and tropical, serve the salad on the inside of one or both halves of the watermelon.