This pasta recipe is suitable both for vegetarians and celiac. Read on in order to be able to cook it at home!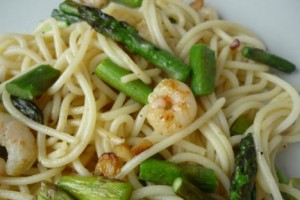 The following recipe has all the ingredients to make it the perfect dish: is ideal for vegetarians and celiacs, easy and quick to prepare as well as nutritious and tasty.
Cooking time: 30 minutes
Ingredients for six persons:
1 package of gluten-free pasta, preferably penne
500 grams of asparagus
1 large lemon
1/2 cup mayonnaise
2 teaspoons of parsley or cilantro diced
1 teaspoon of peppermint or chopped mint
2 teaspoons of fresh dill cut into small pieces
2 teaspoons chopped marjoram
Pinch of salt
A pinch of pepper powder.
Preparation:
Boil a pot of salted water. Add pasta and cook as directed.
Wash the asparagus and cut its ends. Pass them on the grill with a bit of olive oil until golden.
Cut the asparagus into pieces.
When pasta is al dente, drain and place in a bowl.
Add a little olive oil and lemon juice and stir a bit.
Add the mayonnaise, asparagus and herbs cut into small pieces.
Dress everything with a little salt and pepper and stir again.
Serve immediately before it cools.
Pasta is a main dish but may be accompanied by some meat or salad.