The stuffed tomatoes are a perfect alternative to replace the typical salad or side dish. Attentive to the following recipe.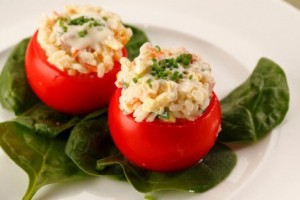 Stuffed Tomatoes are easy and quick to prepare and, apart from a very tasty dish. It is also suitable for vegetarians and can also become the perfect accompaniment to meats, salads and fish.
Ingredients for eight people:
8 large tomatoes
1 small onion
2 cloves of garlic
4 teaspoons olive oil
150 grams of rice, preferably basmati
30 grams of tomato pulp
300 milliliters of vegetable broth
15 grams of fresh basil leaves cut into small pieces
The grated zest of half a lemon
35 grams of grated cheese.
Preparation:
Pre-heat the oven to a temperature of 190 degrees.
Cut the top of the tomatoes, about two inches, and set aside.
Empty inside the tomatoes and place in a bowl.
Cut onions and garlic into very small pieces and fry with a little olive oil until golden.
Add tomato pulp to the pan, slightly increasing firepower and letting the mixture cook for about 10 minutes.
Add rice and vegetable broth and decorating while cooking the leaves gently to low temperature for about 10 minutes or until the rice is half done.
Add cheese, lemon rind, basil.
Fill the tomatoes with the mixture and place the top left previously secluded.
Place the tomatoes in the oven and let them cook for about 25-30 minutes, until rice is tender and baked tomatoes.
Serves the tomatoes accompanied by salad (light and vegetarian option) or a good steak.