If you thought that eating salad was synonymous with eating green, revel in this recipe and change the chip.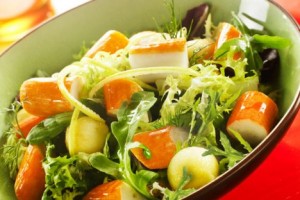 Eating away from home is what you have. Tupper above tupper for a low. By much imagination, already just one ideas; right?
Be prepared to bring to the office a new type of salad. Dare to mix the Krissia sticks, raisins and apple how? Take a look at the following recipe. The result, sound, light and very healthy.
Ingredients:
One apple
Raisins
Krissia sticks
Endive
Green lettuce
Vinegar of Modena
Olive oil
Salt and pepper.
Preparation:
Cut thin strips of Apple and make balls with the rest of the Apple. Place a bed of lettuce on the bottom of the dish and upon it adds the Apple balls, chopped Krissia sticks and raisins.
In addition, make vinaigrette as a dressing by mixing the oil, vinegar, salt and pepper. Sprinkle before serving.