Ingredients for 4 people: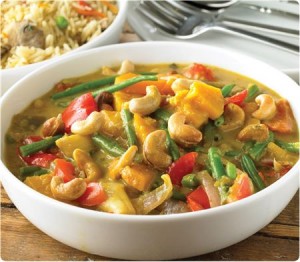 1 can chickpeas (about 400 g);
1 can diced tomatoes pulp (400 g);
1 can coconut milk (about 400 ml);
1 cup lentils;
2 onions;
2 carrots;
2 tablespoons curry paste;
Oil;
Salt;
1 bunch cilantro (optional).
Preparation:
Peel and chop the onions. Peel and cut the carrots into small cubes.
In a fry pan, heat a little oil. Fry the onions for 5 minutes.
Add the curry paste and carrots. Stir and cook for 5 minutes.
Add tomatoes, coconut milk and a glass of water. Add the drained chickpeas and lentils. Add salt and leave to simmer without lid, with average fire, during 20 minutes.
Serve with fresh coriander and basmati rice.