Our body requires us to a higher intake of liquids during the hot summer days. A good option is a refreshing mango iced tea. Learn to prepare this drink so fresh and tasty.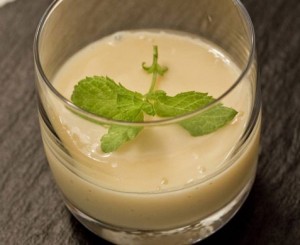 Iced tea is a cheap drink, easy to prepare and extremely refreshing during the long days of intense heat. One of the most popular and delicious variations of this refreshing drink is the mango iced tea.
In just 15 minutes and with minimal cost to our pocket, will be a more appetizing drink. Yes, beware abusing iced tea if you have sleeping problems.
Preparation Time: 15 minutes
Level of Preparation: Easy.
Ingredients for 4 people:
• 500 ml of cold water
• 6 black teabags
• 2 cups mango nectar
• ¼ cup fresh mint
• Thinly mango sliced
• A pinch of sugar.
Preparation:
Boil water in a saucepan and place the tea bags inside.
Let stand tea bags for about five or six minutes until the water is completely brown.
Remove tea bags and add mango nectar and sugar.
Stir well to ensure the sugar is completely dissolved.
Places the result into a pitcher and add a few leaves of fresh mint.
To serve, add ice cubes and thin slices of mango can also serve as decoration.