The pasta salad with chicken and fresh melon is low in calories and very colorful, tasty and perfect for a light summer dish. Mix it into your weekly recipes plan because it is refreshing and very healthy for the body.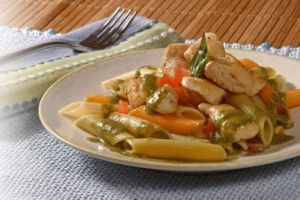 Pasta salad with chicken and melon is one of those ideal dishes: easy to prepare (with only five ingredients, which makes it one of the most economical recipe), with a colorful and needed only 30 minutes to be List. Try this delicious salad on a hot day of summer and you will not regret it.
Preparation time: 30 minutes
Ingredients for 6 people:
• 1 cup yogurt strawberry, cherry or raspberry
• 1/3 cup mayonnaise
• 4 chicken breasts without bone or skin
• 2 cups of pasta (gemelli, penne, farfalle)
• 1 small melon diced
• A pinch of salt
• A pinch of ground pepper.
Preparation:
Cook pasta according to package directions.
Mix the mayonnaise and yogurts in a deep bowl.
Put a little salt and pepper to the chicken and baked at a temperature of 180° C for about 20 to 30 minutes.
Cool the chicken and cut into thin strips or cubes. Add it to the bowl with the mayonnaise and yogurt.
Cut the melon into cubes and pour into the bowl with the other ingredients.
Let it cool for about 2 to 3 hours before serving.
Enjoy of your colorful salad as a first dish or main dish for a light and fresh dinner.