You will find the Casa Peru restaurant in the center of Amsterdam, very close to the mythical plaza de Leidseplein, where nightlife is concentrated in the Dutch capital, but far enough away to enjoy a quiet evening.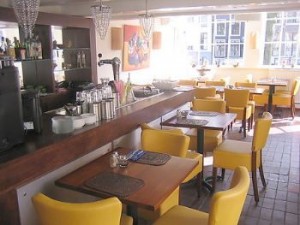 The restaurant, located on the corner of Prinsengracht with Leidsegracht, and overlooking the canals of Amsterdam is quite tiny but the dinner menu is quite complete. Peruvian specialties are not to be missed.
Then, among the main dishes you can find rice with seafood, lomo saltado, aji de gallina (seasoned chicken pieces with a spicy sauce with a little yellow pepper, walnuts, parmesan cheese and milk, served with potato and rice), marinated fish with tacu-tacu of beans or stewed quinoa (a vegetarian dish).
Some proposals of the house include rice porridge with milk (a purple corn pudding) with strawberry sauce and a layer of cookie with caramelized cream, tres leches cake with passion fruit, chocolate cake or lemon pie.
In short, Casa Peru is a restaurant where you eat and drink well, which claims to be the only Peruvian restaurant in Amsterdam. Recommend booking in advance if you want to eat at Casa Peru, it is a very popular restaurant. As for prices, maybe a little higher, the dishes are around 40 to 50 euros per person.
Directions to Casa Peru
Address: Leidsegracht 68 (corner Prinsengracht), 1016 CP Amsterdam.
Phone for reservations: +31 (0) 20-6203749
To get to this restaurant you can walk from the center of Amsterdam and get off at one of the trams passing by Leidseplein. The stop will be closest to you is the Prinsengracht, where stop the trams 1, 2 and 5 (all stops at Centraal Station).