Restaurant Sapori in Vista is so called in the name of the flavors present in a part of the Phlegrean territories, rich in tradition and ancient culture, and on behalf of the breathtaking view that you can enjoy the summer terrace equipped.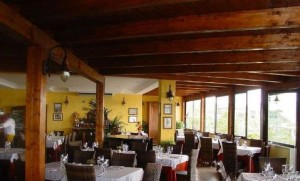 The atmosphere is very warm and cozy, surrounded by the picturesque village of Bacoli, overlooking the bay of Naples, between the promontory of the Aragonese Castle of Baia, the tip of the Hill and Lake Miseno.
The cuisine is creative, tending to fish, which takes full advantage of all the potential and the resources that the earth provides, making both modern haute cuisine dishes that taste old.
It is well worth the choice of menu with seafood, as rightly emphasizes the waiter and then: it is light and delicious appetizer, which comes elegantly served in a 'huge shell with a juicy inside lemon-based sauce that seasoned octopus, cuttlefish and fennel, expertly paired with walnuts and pine nuts. The starter continues with a range of tasting of specialty mixed hot / cold: a tasty gateaux potatoes and baked salmon, prawns wrapped in brisee pastry really good and fresh, zeppoline seaweed, bruschetta with tomatoes and oregano and then a pumpkin flower in batter filled with a wonderful fresh ricotta cream also.
The Restaurant Sapori in Vista, located on Lord Hamilton (formerly Wild First Street) Bacoli, bases its catering on all products in the surrounding area, from wine to fish, from citrus to vegetables, all in a landscape setting rather suggestive.
Address: on Lord Hamilton, Bacoli (NA)
Phone: 081 5233596 – 347 7019526