After strolling through the Gothic Quarter of Barcelona, on a street behind the Cathedral of Barcelona, restaurant Bun Bo Vietnam, a modern and welcoming restaurant where you can savor Asian delights at very good prices.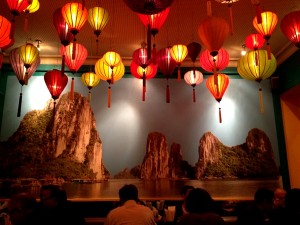 This Vietnamese restaurant serving Asian specialties is located on a quiet street but in the heart of Barcelona. With its colorful walls and decorative art, the stunning image of Halong Bay, Bun Bo Vietnam invites you to enjoy a well crafted cuisine.
The restaurant is open daily for lunch and dinner. At noon have a menu of 10 euros and at night you can dine according to the menu (although prices are also moderate).
Other dishes of the restaurant are ca ri hai san, a Vietnamese mild curry with chicken or seafood with vegetables, ginger, onion and coconut milk, or thit ga voi xoai, chicken with caramelized mango. To drink, the restaurant has a good selection of Asian beers and Vietnamese coffees. For evening cocktails and also in the days of spring and summer you can enjoy your terrace.
Directions to Bun Bo Vietnam Restaurant
Address: Carrer Sagristans 3, Barcelona.
The restaurant Bun Bo is located near the cathedral of Barcelona, the closest subway stops are Placa Catalunya (lines 1 and 3 of the meter) and Urquinaona (lines 1 and 4).