The puff pastry chicken with mole is easy to prepare, is nutritious and is also very fast.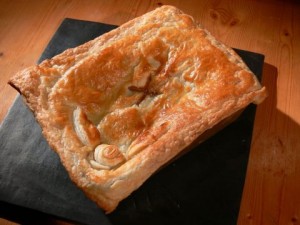 Ingredients
1/2 kilo of puff pastry
1/2 kilo chicken breast boiled and shredded
1 large potato, cooked and cut into small cubes
1 onion, sliced into strips
1 small can of baby corn
250 ml of black mole
Salt to taste
1 egg
2 tablespoons olive oil.
Preparation
In a Fry Pan the onion with 1 tablespoon of olive oil until brown, turn off the heat and add the potatoes, chicken, mole and corn, try the seasoning and if it is necessary to add sugar or salt to taste.
Preheat oven to 180°. Grease a baking dish clear glass and extends 2/3 of the dough, stuffed with chicken with mole and cover with another third of the pasta. Varnished with beaten egg and bake for 40 minutes, check that the bottom does not burn but be browned on top.