Puglia, home of gastronomic biodiversity thanks to the wide range of raw materials available. And then, if we are in the capital, Bari, where we can eat? What we propose today is a restaurant among the best in town, Le Giare. Located underneath the hotel Rondo, in course Alcide De Gasperi 308 F, the young restaurant is run by a "Florentine in Bari", Massimo Lanini, and in the kitchen there is Antonio Pulini, young chef of 34 years.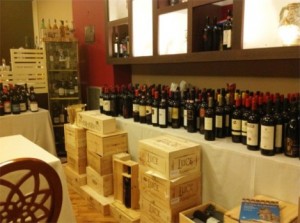 The environment is sophisticated but not stuffy, the atmosphere is friendly and the welcome will be given by the Florentine Maximum will make you feel at home. The dishes using fresh and local ingredients, processed with the creativity of the chef. On their website to find some examples of scope, but their menu is constantly changing and is inspired by seasonal produce.
Opening with Sepia confit with tangerine, pumpkin cream and crostoncini of bread, as the first fresci spaghetti with anchovies, pine nuts and raisins, the second rack of lamb murgia smoked with mandorle roasted and stewed quinces, and finally the Chantilly Cream drop fondant with vincotto and mandorle sandblasted and are an example of a la carte menu that you can choose.
To accompany the dishes a selection of unique wines. Already entering will, in fact, affected by the quantity of labels that covered one wall of the restaurant, and the bottles that will make you want to uncork something. You can choose from the wine list, ranging from big names to small and great reality (hard to find elsewhere) affordable to all, or take a wine by the glass. You will spend a full meal, without wine, about 50 euro.