Ensure that the smallest of the house will eat everything that puts them in the dish is little less than a challenge for most parents. With this simple and tasty recipe, achieve your goal while your children are having fun with his meal.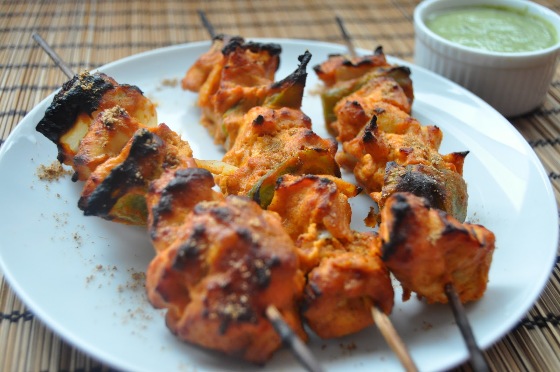 When you have children, one of the biggest problems lunch or dinner is how to get little ones to eat the whole plate without getting bored in the process. The secret is to make meals fun and attractive potential.
One of the favorite recipes of the kids is these delicious and nutritious full color chicken skewers. Also, this recipe is suitable for celiac and allergic to nuts.
Ingredients for 4 people:
1 red pepper, cut into small pieces (can be replaced by cherry tomatoes)
250 grams chicken breast cut into cubes
4/5 cup Greek Halloumi or Feta cheese, diced
Fresh bay leaves
6-8 sticks for skewers.
Preparation:
Place sticks in cold water for 30 minutes to prevent burning while cooking later.
Preheat the grill temperature to medium-high. The ideal is to cook the skewers for about 2 or 3 minutes per side.
Cut the skinless chicken breasts into cubes.
Slice the peppers and cheese into cubes.
Place on each skewer, a piece of chicken, a piece of pepper, a piece of cheese and a piece of bay leaf and begin the process again to fill the skewer.
If children do not like pepper, you can substitute by cherry tomatoes.
In a few minutes you'll get a colorful dish that can be eaten alone or with potatoes, rice or vegetables.