Get your family keep healthy preparing them this delicious and spicy fillet of sea bass with pineapple and habanero chili.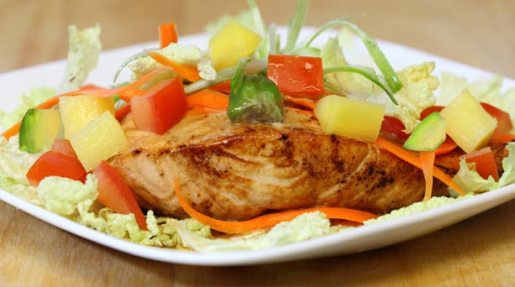 Ingredients (for 2 person)
2 fillet sea bass
1 tablespoon honey
Olive oil, for cooking
½ habanero chili, minced
2 scallions, finely chopped
5 slices pineapple, split in half
1 avocado, peeled and cut into 10 slices
Salt and pepper, to taste.
Preparation
Season the fish with salt and pepper, drizzle with honey.
Heat the olive oil in a nonstick skillet on medium high temperature. When very hot add the fish. Be cook, without moving, for 3-5 minutes, depending on how thick the steak.
When the fish begin to feel firm turn it over carefully, letting caramelized honey to form a crispy crust, for 3-4 minutes. Remove fish from pan and separates.
Add pineapple, habanero chili and onion to skillet. Season with salt and pepper and heat for 2 minutes. Turn pineapple and heated for 2 minutes.
Serve fish with pineapple, avocado, pepper and chives.