Enjoy this delicious and much healthier version of the classic Italian dish that fascinates everyone and pamper your palate.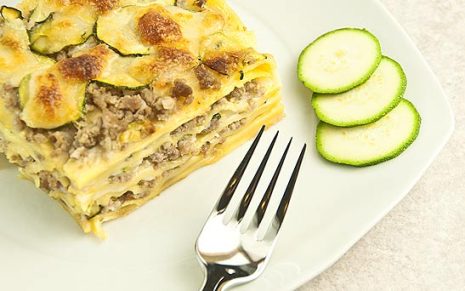 Ingredients (8 servings)
500 grams beef, lean
3 garlic cloves
½ onion
1 teaspoon olive oil
Salt and pepper, to taste
1 can (800 grams) crushed tomatoes
2 tablespoons chopped fresh basil
3 medium zucchini, sliced ​​very thin
420 grams ricotta cheese
450 grams mozzarella cheese, grated
¼ cup Parmesan cheese
1 egg.
Preparation
In a medium saucepan brown meat and season with salt. When ready drain in a colander to remove fat.
Add olive oil to the pan and saute garlic and onion for 2 minutes or so.
Return the meat to the pot, add the tomatoes, basil, salt and pepper. Let simmer for 30-40 minutes, covered. Do not add water, the sauce should be thick.
Meanwhile, seasoned zucchini with salt, to taste and let sit for 10 minutes. Remove excess moisture with a paper towel.
Handle the zucchini on each side, until they are cooked (for 1-2 minutes per side). Arrange on paper towels to remove excess moisture.
Preheat oven to 176°C.
In a medium bowl mix ricotta cheese, parmesan cheese and egg. Beat well.
Spread some sauce in a mold of 22x30cm and covered with a layer of zucchini. Put a little cheese over mixture and cover with mozzarella cheese. Repeat the process until you have finished all the ingredients. Top with sauce and Mozzarella cheese and cover with foil.
Bake for 45 minutes at 190°C, covered. Then uncover it and bake for another 15 minutes. Let it sit for 5-10 minutes before serving.