A little trip to China, the time to stop in Soho. It's possible. The place is called Yauatcha. A pun between the name of the creator of the house, Alain Yau, and Chinese tea (cha) at which the ground floor, or rather grocery store-style tea-house as Hong Kong, is dedicated.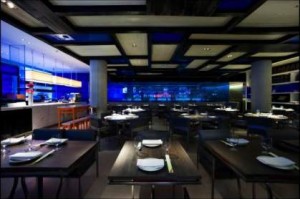 Ground, the noise, the constant activities, certain madness very dominated, with its long counter/aquarium light, its stone walls with fake candles embedded in the wall.
In short, more than 150 meals are served at full speed and play the tables happy. While the kitchen is semi open to the gaze of the diner. On the agenda: China in all its forms, its regions, its styles, with a particular inclination for dim sum. But the fries of Shanghai, the Beijing duck in fashion and honey sauce/sour red beans, Dover sole with shitake soybeans have also right to quote.
The classic dim sum, steamed, sui mai with pork and shrimp, ha kao, but dim sum of Saint Jacques, mushroom, green, or spicy sichuan wonton are very well done.
Desserts, with a key U.S., as this fun cheese cake with blood orange vanilla sorbet or olie this pear tart with its ice milk chocolate.
In short, a fun and tasty in a place outside the norm, who practice all prices (the classic dim sum starts at €5, for the steamer of three parts, and seafood dishes turn, these, around 25 pounds, while the sweet and sour pork is €10.50).
Address:
15-17 Broadwick Street
London W1F 0DL
UK
Tel: +44 (0) 20 7494 8888