When you decide to do a little the foreigner or spend a morning shopping in Barcelona, where are you going to eat? Just in the fast food restaurant of the moment or do you venture to try a restaurant that probably comes with a menu in English?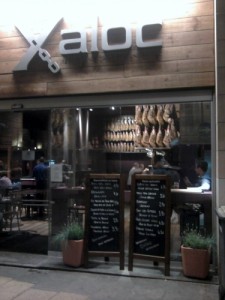 There is a restaurant where you can eat good, reasonably priced and right in the city center, this Xaloc restaurant. This restaurant is located on a street behind the Cathedral of Barcelona, just meters from the famous Plaça del Pi.
Xaloc offers a menu with snacks and dishes prepared with care. You can enjoy cold cuts, cheeses and tasty dishes. This restaurant began as a deli specializing in Iberian hams and over time was transformed into a restaurant offering some homemade tapas and ending interesting restaurant of Iberian tapas and some interesting dishes.
In addition to its dining room, at street level, have a couple of rooms that can be booked in a basement. They also have menu for groups.
Between the covers of the restaurant you will find Iberian ham, gazpacho, Iberian salad, toast with Iberian sausage, selection of cheese and sausages.
Address: Carrer de la Palla, 13-17, Barcelona