Want to enjoy a romantic dinner in the company of your loved one and maybe surprise by booking the entire restaurant? There are some places where it is not that difficult (and especially expensive) make this small desire. And, surprise, all are in neighboring European countries.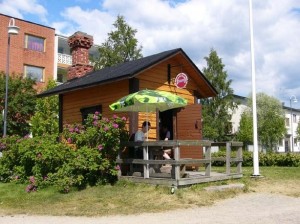 There's Solo per due in Vacone (Rieti) has only one table and two chairs, you should book at least one week in advance by choosing the menu, the dessert wines, background music, flowers and time arrival. The price is 250 euros per person, excluding wine and floral details.
The second is located in Salzburg and more precisely within the Hotel Schloss Mönchstein. The "Dinner for Two" is situated on top of the tower of the hotel and consists of a dining room for up to 4 persons, from which you can enjoy a splendid view over the city of Salzburg. The price for the rental of the room is 120 euros for outside guests and 60 customers. Even here, of course, need to book early…
The last one you point out is the Kuappi, appointed by the Guinness World Records' smallest restaurant in the world. We are in Finland, in the city of Iisalmi and this tiny place three to six square meters has a table, two chairs, a bar, a bathroom and a terrace with another table and two chairs. The Kuappi is only open during the summer months of June and July, Monday to Friday (13-19).