Colorful fresh salad, perfect for summer and the hot season for its combination of intense and rich flavors.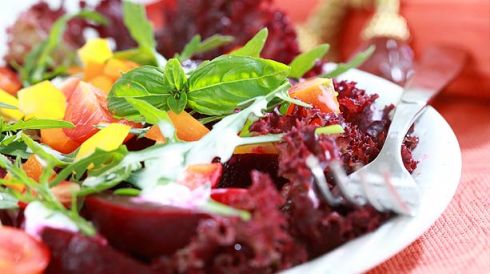 Ingredients (4 servings)
500 gram beets
1kg tomatoes
2 cups cherry tomatoes
¼ cup feta cheese in crumbs
¼ cup fresh cilantro
¼ cup extra virgin olive oil
Salt and pepper, to taste.
Preparation
Preheat oven to 204° C. Seals the beets on a package of aluminum foil. Roasts on a baking sheet to bake wavy until soft, about 75 minutes.
When cool, cut them with a paper towel to remove the skin. Slice.
Slice the large tomatoes and cut in half the cherry tomatoes.
Arrange the beets on a plate. Top with feta cheese, cilantro and olive oil. Season with salt and pepper.