Summery and tropical peach tart with a crust made from date, walnut and almond flour. Try it!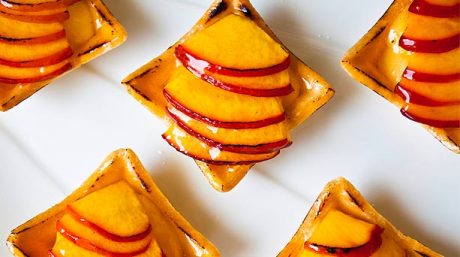 Ingredients
For the crust
9 dates, pitted
1 cup toasted walnuts, chopped
1 cup almond flour
2 teaspoons coconut oil
1 teaspoon cinnamon
Pinch salt.
For the filling
½ cup fresh cream (Creme fraiche)
¼ cup confectioners sugar
¼ cup brown sugar
2 tablespoons cornstarch
3 large peaches
2 tablespoons lemon juice.
Preparation
For the crust combine all ingredients in a food processor until crumbs. Press the mixture in a single layer on the bottom of a removable base pan covered with wax paper.
Blend the cream, confectioners sugar, brown sugar and cornstarch. Spread over crust.
Slice the peaches in half and then into thin slices. Arrange them in concentric circles over the cream, starting from the outside and going to the center. Spread the top with lemon juice.
Refrigerate for at least 2 hours for it to cool completely. Removes the removable base of the mold and cut into slices.