Great way to pamper the children lined up without filling them with additives and preservatives. This version is much healthier than those that are already prepared!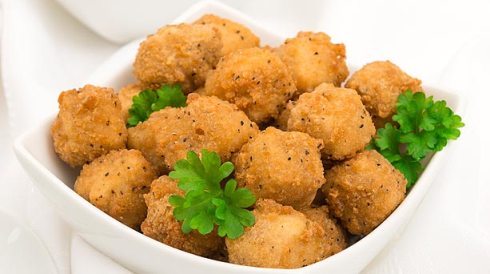 Ingredients
300 grams fish fillet, diced
3 or 4 garlic cloves, grated
½ teaspoon pepper
½ teaspoon chili powder
¼ teaspoon turmeric or saffron
The half lemon juice
Salt
1 teaspoon cornstarch
1 egg, beaten
1½ cups bread crumbs
½ teaspoon pepper powder.
Preparation
Marine fish with garlic, pepper, chili powder, turmeric, lemon juice and salt. Let sit for at least 15 minutes or refrigerate overnight.
Adds cornstarch and mix well.
Season the bread crumbs with 1 teaspoon pepper.
Dip each piece of fish into the beaten egg, then cover with the breadcrumb mixture. Dip again in the egg.
Fry in vegetable oil or coconut oil.
Serve hot.