Do you not want to break off a bit 'from everything and everyone? The job stresses you out? Would you like to stay at least an hour away from everything and everyone? Here is a proposal (in some ways a bit 'excessive, eh …) perfect for you: eat five meters in height.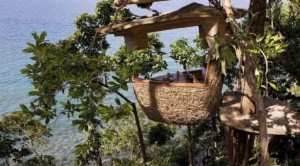 All this takes place in the resort of Soneva Kiri in Thailand, where there is a restaurant literally "air". Tables arranged in trees, strictly for a few people each, with waitresses who will reach to order and to bring you drinks. For the rest of the time, you're just you, alone, or who want to have as a company.
Must surely be an original but definitely not recommended for those suffering from vertigo (and eat well, at that height, must be just a walk …).