This summer looks great body while enjoying the rich, sweet flavor of this light strawberry and lemon pie.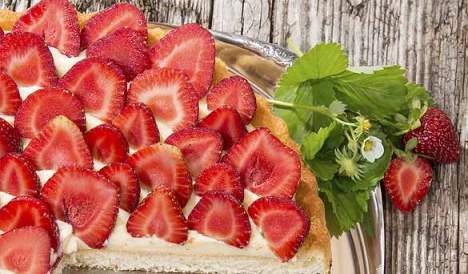 What do you need?
For 1 pie of 22 cm:
Oil cooking spray
8 boxes graham cracker, finely ground
¼ cup butter, melted
3 tablespoons granulated sugar
1 can 400g light condensed milk
1 pack of 226 grams of low fat cream cheese, at room temperature
1/3 cup fresh lemon juice
1 tablespoon lemon zest
1½ cups fresh strawberries, sliced.
Preparation:
Preheat oven to 176º C. Sprays a pie mold base with removable oil spray.
Combine graham cracker crumbles along with the butter and sugar in a medium bowl. Press mixture into bottom of pan and bake for 5 minutes.
Whisk the condensed milk with the cream cheese with electric mixer until smooth. Stir in juice and lemon zest. Pour over the base already baked.
Bake for 28-30 minutes or until the filling has curdled. Let come to room temperature and then refrigerate for at least 2 hours.
Arrange strawberries on the pie. Remove the removable edge of the mold.
Slice and serve.