Pamper your palate and your figure with all the flavor of a delicious pizza in this lighter version made with eggplant.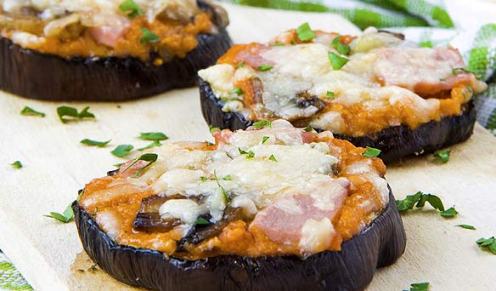 Ingredients
1 large eggplant
1 tablespoon salt
2 tablespoons olive oil
2 teaspoons Italian style seasoning
10 basil leaves, finely chopped
1/3 cup Parmesan cheese, grated
1/3 cup grated mozzarella cheese mixture, low fat.
For the sauce
2-3 teaspoons extra virgin olive oil
3 large garlic cloves, finely chopped
3 cups peeled and chopped tomatoes
½ teaspoon Italian style seasoning
¼ teaspoon dried oregano.
Preparation
Cut the eggplant into slices of 2 cm wide, discarding the edges. Arrange the slices on a double layer of paper towels and sprinkle generously with salt on both sides. Let stand for about 30 minutes to drain the fluid.
Preheat oven to 190° C.
Prepare the sauce. Heat 2-3 tsp olive oil and saute the garlic until it begins to release aroma, without letting it brown. Add chopped tomatoes, Italian seasoning and oregano and let the sauce to cook in a light boil until thick, breaking up tomatoes with a fork as it is roasted. Add a little water as needed.
After 30 minutes, the dry eggplant with paper towels. Spray a baking sheet with olive oil or with cooking spray. Accommodates the eggplant on tray and varnishing them with olive oil, sprinkle with Italian-style seasoning. Roasts the eggplant for 25 minutes.
Remove the eggplants from the oven and turn on broiler. Spread a few tablespoons of sauce over each slice of eggplant, sprinkle with basil and top with a generous amount of cheese.
Put the pizza under the broiler until the cheese has melted and is lightly browned.
Serve hot.